Frequently Asked Questions
Find the most frequently asked questions and answers. We're here to support you!
What is the best way to plant my pouches?
---
See our How-To video on planting Al's Flower Pouch for a step-by-step guide.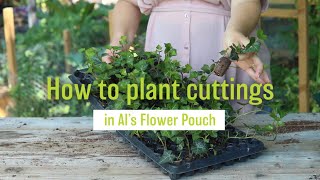 Find a flat surface and fill pouches with a pre-moistened growing media (see below for recommendations). Tip: use the pot your plants came in as a scoop! Next, gently tamp down the soil with your fist or with the base of the pot to ensure the pouch is full from top to bottom. The pouch should be full and firm, but not compacted. Too much soil compaction will inhibit root growth. Lay the pouch flat on its back and fold the handle over the front. Apply gentle pressure to flatten the back of the pouch so that it will hang flat against walls. Insert the Thirst Quencher watering spout into the centre of the pouch and push down until just a small amount of the rim is sticking out of the soil. Plant your seedlings, plugs or seed directly into the pre-cut holes. Use one hand to poke the hole open, and use the other hand to pinch and plant the plug into the hole. Now it's time to water! A 6L pouch should have about 1L of water after the first planting. Water into the Thirst Quencher spout to ensure water reaches the bottom of the pouch. A repeat watering is recommended after ten minutes. See more How-To videos.
---
What soil should I use?
---
We recommend using a general potting mix, like Fafard's Veranda Mix. Select a mix with higher water retention. Typically, these types of mixes contain elements like coco coir or perlite.
---
What's the best way to water my pouches?
---
Because of their vertical design, Al's Flower Pouches require thorough watering to ensure plants at the bottom of the pouch are evenly watered. Don't simply spray the front of the pouch with your hose. Make sure you're watering from the top and wait to see the water trickle out of the bottom. Once the water drains, do one or two repeat waterings. On hot days in the middle of summer, don't be afraid to give it even more to drink! We also highly recommend the use of Thirst Quencher watering spouts to help evenly distribute water down to the bottom of the pouch. For best results, Thirst Quenchers should be inserted into pouches after filling and prior to planting. Thirst Quenchers are included in our Vertical Garden Kits and available to purchase separately . If you purchased a pre-planted pouch from your local garden centre and there is no Thirst Quencher spout, no problem. You can insert the Thirst Quencher after the fact. See how to insert Thirst Quencher in this video. Pouches completely dried out? Try dunking into a barrel of water. See this video to learn more.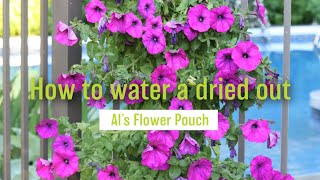 ---
What are the most common plants for Al's Flower Pouch?
---
Al's Flower Pouch works with all kinds of plants. Common plantings include impatiens, New Guinea impatiens, begonias, petunias, calibrachoa and strawberries. Be creative with trendy varieties like succulents, tropicals, fall mums, tomatoes, cucamelon, herbs, leafy greens, portulaca, decorative chilies and many others. And try mixing it up! Mixed cuttings help create a textured, colourful display. Find inspiration and see different combinations in our photo gallery.
---
Where can I display Al's Flower Pouch?
---
That's the beauty of Al's Flower Pouch. Unlike a hanging basket, it is extremely dynamic and can be displayed in lots of creative ways. Here are some suggestions:
Entrance ways
Fences
Gates
Patios
Balconies
Posts
Trees
Grouped on walls for a colourful backdrop
This versatility makes Al's Flower Pouch a low-cost, high-impact outdoor decor option for:
Homes and backyards
Condos and other small-space gardens
Restaurants and cafes
Public spaces
Weddings and event venues
---
Can I reuse Al's Flower Pouch?
---
Al's Flower Pouch is not intended for repeat use. That said, we know that some home gardeners replant their pouches up to three years in a row.
---
How many plants does Al's Flower Pouch hold?
---
We are selling retail packs of our 10-hole and 5-hole Al's Flower Pouch, as well as Vertical Garden Kits that include Al's Flower Pocket.
10-hole pouch holds 10 cuttings, plus one or two in the top
5-hole pouch holds 5 cuttings, plus one or two in the top
Al's Flower Pocket holds one 4" plant
---
Where can I buy planted Al's Flower Pouches?
---
We sell wholesale quantities of Al's Flower Pouches to growers and distributors, as well as kits and packs to garden centres and home gardeners. If you are looking for planted Al's Flower Pouches, we recommend you take a look at this list of North American retailers here. This list is not comprehensive. There are many more Al's Flower Pouch retailers out there, but make sure you check the back of the pouch to know it's the Original!
---
Who is Al anyway?
---
Al's Flower Pouch was invented by Allen Monsma, the founder of A.M.A. Horticulture Inc. Allen first created the pouch in 1992, and since then it has been sold in more than 20 countries around the world. A.M.A. Horticulture Inc. is the manufacturer of Al's Flower Pouch and a wholesale horticulture supply company located in Kingsville, Ontario, Canada. The company is still family-run by Al's daughter and son-in-law, Connie and Rick Bradt. Al's Flower Pouch is one of many innovations introduced by A.M.A. Learn more at amahort.com.
---
What is your shipping and return policy?
---
View our shipping and return policy here.
---
Do you have a leaflet with pointers and tips for growing in Al's Flower Pouch?
---
Yes, we do! This leaflet can be accessed by clicking here.
---
---
A.M.A. Horticulture Inc. is a dynamic, solutions-focused supplier serving the horticulture industry since 1982. Our team of experts understands emerging trends, opportunities and pain points. We work alongside our customers to deliver innovative, custom solutions for your success.
Discover more at amahort.com.
© 2020 by Al's Flower Pouch and A.M.A. Horticulture Inc.